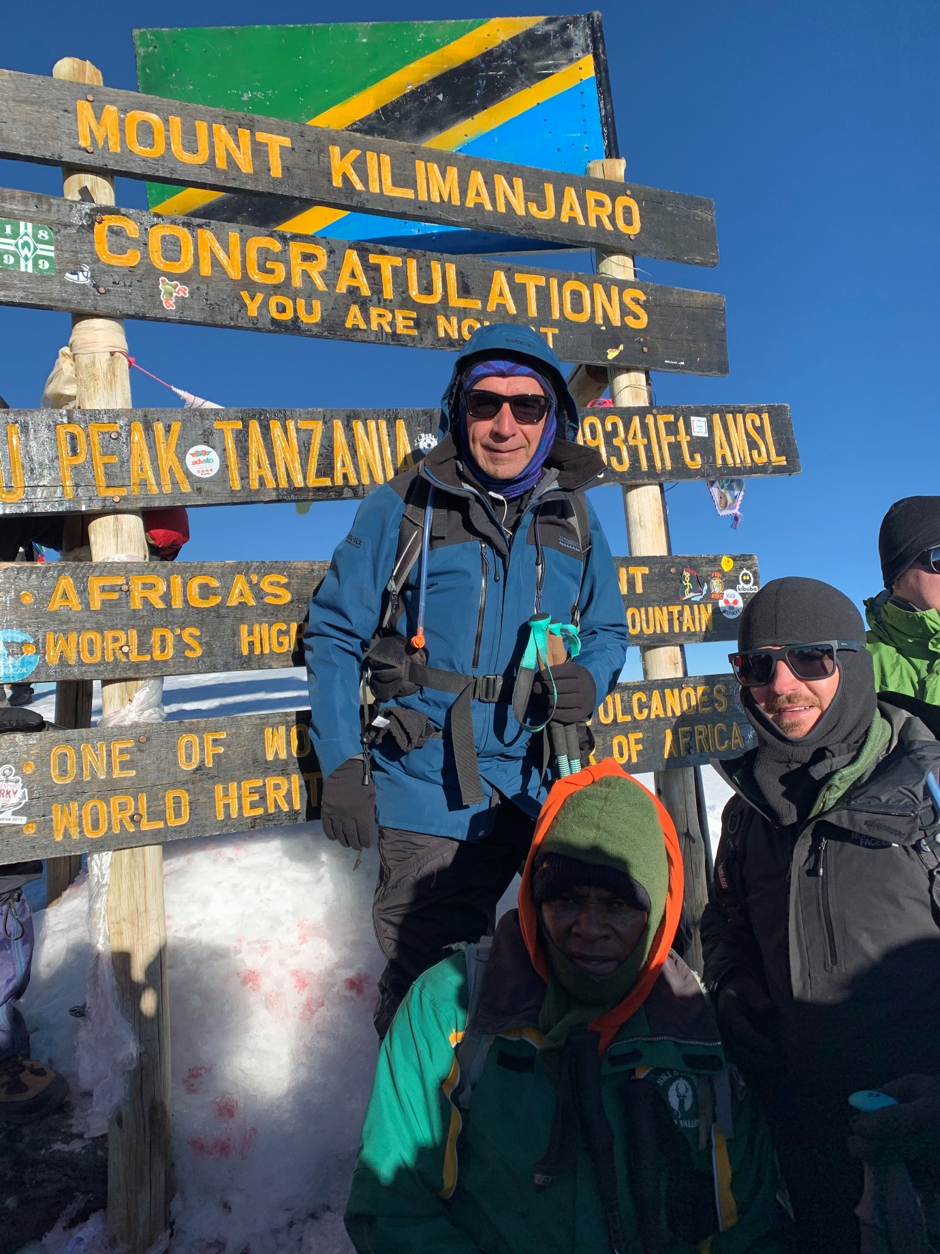 PKF Hamilton co-director Bernard Lamusse is known for his adventurous spirit. These holidays, his intrepid travels took him to Africa.       
2020 started for me with the sun rising on top of Mt Kilimanjaro (5895m), the highest peak in Africa.
There is something magical to be at the top of a continent in thick snow, on the equator to see the new year.
My two sons and I started the climb at midnight in pitch dark with a temperature of -6C. The altitude impacted on us, with each step an effort. The higher we went the thinner the air and the harder it was to climb.
We started three days before at the village of Marangu in Tanzania. We were a group of five climbers with a team of 19 people supporting us. It was good to create employment in Africa by having lots of people around carrying our gear and feeding us well.
Slowly (pole pole in Swahili) we made our way up the mountain staying in two hutted camps before reaching the camp of Kibo from where we made our final ascent.
None of the climb is technically difficult and could be better described as a long walk. This was our second ascent, having climbed Kilimajaro 10 years ago. This time we made no physical preparation and relied on our natural fitness having walked 800km on the Camino de Santiago in July. I realise that often we create mental barriers to challenges. Knowing what we were up for we were mentally prepared this time. The only unknown was going to be the impact of altitude on each of us. We all decided to take Diamox, a medication that assists with altitude sickness and this proved to be very effective for us all and realised our dream of all making it to the summit for the first sunrise of 2020.
While we were in Tanzania we took the opportunity to do a safari that we had planned for our family. This involved a combination of three game parks – Tarangire, Serengeti and Ngorogoro. We arranged our own Land Rover and driver and set off from Arusha.
We were struck by how green the vegetation was, as in our previous visit it had been very dry as this is the dry season. All the rain had created green pastures and brown mud as an excuse for roads everywhere we went. This made it more challenging to see game and to get around. Fortunately, we had an excellent guide and driver who could not resist mud and was always looking at interesting ways to navigate his vehicle. We even had cause to rescue some game guards whose vehicle was stuck in the mud and then promptly got stuck in it ourselves! After two hours of African ingenuity and all of us being covered in mud we managed to get ourselves out of the bog. We made an interesting site arriving at our eco tented camp!
The animals of the game parks of Tanzania were as wonderful as ever. From the enormous elephant groups that surrounded our vehicle and nudged our driver to the tiny rock rabbits sunning themselves on rocky outcrops, we saw an abundance and variety of animals that we could have only dreamed about before. It made any TV show seem very real when you saw the animals in the wild and could smell and hear them in their habitat. The birds of Africa were as enchanting as the animals in their abundance, size and colours.
Refreshed, I'm back to face another year with great learnings and memories of an amazing family holiday.