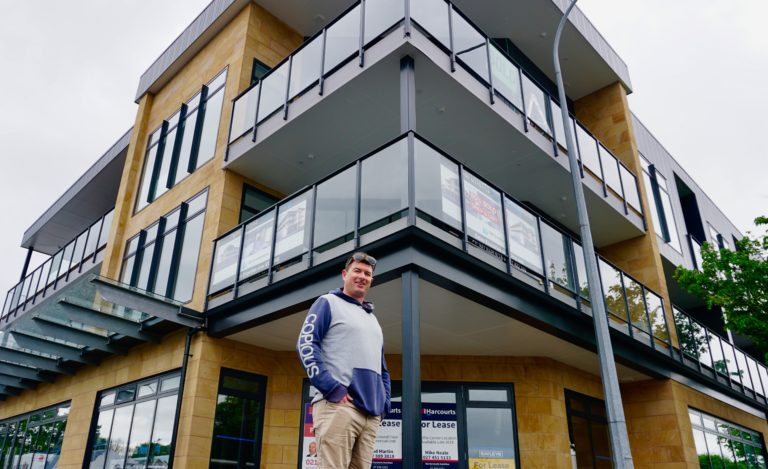 CBD Developments has been shaking things up in Hamilton's building and development sector for almost four years now.
But their success wouldn't have come about without a strong team.
Part of that team is Robertson Fulton partner Matthew Fulton. Matthew will be joining Hamilton's PKF team in January, taking CBD Developments with him.
Matthew said a significant benefit of joining PKF Hamilton was becoming part of the PKF network and knowing that the increase in capacity and deeper level of expertise would assist in adding value to their clients' businesses.
"This collaboration will deliver a broader service offering to our clients, underpinned by the strong national and international network that PKF has and provide opportunities for our staff to continue to grow with us – all while remaining a locally owned accountancy firm that will continue to deliver the highest levels of client service."
Matthew said he and his team had been working with CBD Developments on projects for the past three years.
"Our main assistance would be in making sure structures are set up correctly. Construction business is complicated and if things aren't done right to start with it can cost you in the longer term."
Matthew said building long term trust and relationships with his clients, like CBD Developments, fed into the values PKF had and that was part of the reason he was drawn to them.
CBD Developments owners and brothers Chris and Ben Dinan moved into a motel on Ulster Street when Chris was eight and Ben was 10. The pair had seven other siblings, so when their parents moved to Hamilton from Palmerston North a motel seemed to fit the family of 11 just right.
Years later, Ulster Street would be where the carpentry-trained brothers completed their first development.
"Ben and I shared bunks together when we were growing up. He decided to do carpentry and I followed suit. We are the only two in the family who aren't office workers," Chris said.
"Once Ben was qualified he carried on as a carpenter here. I left once I'd finished my apprenticeship, just as I turned 20, and I went straight over to the UK. I was going over there for a year and ended up still there 10 years later.
"During that 10 years I was working 7 days a week, 12 – 14 hours a day and I was clever enough to be buying rental property back here with a bit of unspent cash that I didn't get time to spend."
Ben soon joined Chris over in the UK but they both continued doing their own thing.
Chris was shop fitting, working on Heathrow Airport, and building multi-storey buildings. Whereas Ben sorted out the finishing touches for different projects.
Then Chris met his wife, Lucy, and decided to go home and have a family.
"I worked for Watts & Hughes and Livingston Builders as a site manager and built up a lot of contacts when I first got back to Hamilton.
"I needed to get more of the Kiwi building knowledge. Kiwis work different to the way the English work."
Ben stayed over for a while longer and has been back almost two years now. Chris came back in 2008.
"In 2014/15, I was building projects for the Livingston ltd – townhouses and that sort of thing and it suddenly clicked to me that I could do that on one of my own properties.
"At that stage I said to Lucy, 'I'm going to have to sell up everything, sell our house and sell our cars and have a crack at it'. Ben went halves with me so he had to do a similar thing over in the UK.
"Our first project was building six townhouses in Ulster St, which was just down the road from where we grew up. I ran the project from start to finish and got them rented.
"Then I came across another property in Vialou Street which now house 14 townhouses and a café. It was an old beaten up garage that was on there and people said it wasn't going to work and that I was crazy.
"I said maybe I am crazy, but I'm going to roll the dice and see what it does and so we sold all our properties in Ulster St to kick start Vialou Street and the rest is history.
"Our next project is an apartment building on Rostrevor Street. It's a pretty exciting project that one.
CBD Developments is booming, but, Chris said, they couldn't have done it without Matthew Fulton's help.
"We got Matthew involved at the early stages. We used to have a single man accountant who would just look after all the records with rentals and our books and it just got too big for him and he waved the white flag and I met Matthew and he got us all organised."
Matthew is an accountant at Robertson Fulton. Robertson Fulton join the PKF family in January next year and Chris is happy to be coming along with them.
"We were so new to it, Matthew gave us the guidance of how we should formulate our company and how we should establish our entities and making sure we were paying our taxes and GST on time. Without him, I can't even imagine. We were recommended him through our solicitor.
"Matthew has a great team that deal with us. It's quite a big team and joining with PKF seems to be the right move for them."