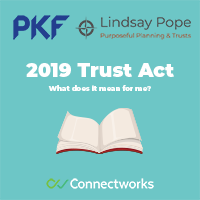 The Ministry of Justice estimates that there are up to 500,000 Trusts in New Zealand and there are some big changes on the horizon, that are going to affect every Trust. There is new legislation coming into effect 1 February 2021.
To help you get an understanding of the new requirements PKF have teamed up with Trust and Legacy expert, Lindsay Pope, to present our "2019 Trust Act – What does it mean for me?" webinar.
Lindsay has had over 40 years' experience in professional trustee and private client services and is well placed to guide families, trustees, beneficiaries and professional advisers on the 2019 Trust Act requirements.
The webinar will cover the key aspects of the 2019 Trust Act, responsibilities and obligations of Trustees and most importantly how it is going to affect you.
If you are connected to a Trust in any way as a settlor, trustee or beneficiary or are considering setting up a Trust, please join us to learn about the law and how it will impact you and your Trust.
CLIENT EDUCATION WEBINAR:
Date – 10 November 2020
Time – 11:30am
Hosted By – PKF, Brendan Jackson, CEO PKF Carr & Stanton
Presented by – Lindsay Pope, Trust & Legacy Expert
By attending this webinar you will:
Learn about the key aspects of the 2019 Trust Act.
The practicality of the requirements.
How it is going to affect you and your Trust.
To register, please click the following link:
https://register.gotowebinar.com/register/9178377132804847120
Kind regards
PKF Hamilton