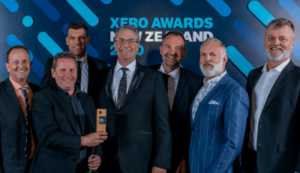 Despite the year that it was, 2020 was national accounting firm network, PKF New Zealand's year! PKF were named as winners of the National Partner of the Year category at the Xero awards recently in Auckland. 
The "Xero National Partner of the Year" award goes to an accounting partner with a national presence who has added significant value to clients across New Zealand and championed the use of Xero and cloud technology.
The PKF New Zealand Chairman said "PKF have been finalists for the last two years and winning the 2020 award will proudly feature on our list of key successes. PKF member firms across the network have worked very closely with Xero over recent years, particularly in 2020, when the spotlight was firmly centered on "cloud computing and anywhere any time access" during the lockdown.  In collaboration with Xero, PKF reached out to hundreds of clients across the country, helping them through a very challenging year."
"Our New Zealand network has grown to 13 firms across the country, with three new member firms soon to be announced. Being a PKF NZ member firm is right for the times. Membership provides local ownership and decision making, with national and international reach and it's a model that is working very well, as we (PKFNZ) continue to field new member enquiries" he said.
Xero Stated:  "PKF has worked really hard to embed Xero across the business, and upskill and educate their team. They have a clear focus on building and fostering the next generation of great leaders and are truly values led. The judges were impressed with PKF's heavy focus on education and training for their clients and dedication to helping them thrive".