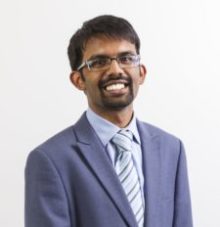 At PKF Hamilton, we love working with clients and getting to know them. So, we think it's only fair that you get to know us a bit better as well with our staff profiles. Today the spotlight is on accountant Neilen Govender from our business advisory team. Read below to find out what unusual type of pet he has and what he's learning about in his spare time.
Tell us a bit about your background: 
I was born in South Africa and moved to New Zealand when I was nine. I lived in Kawerau for two years before moving to Hamilton and I've been here since.
Why did you want to get into this type of role?
Numbers were always interesting to me so accounting was a career choice based on that.
What do you love about working for PKF Hamilton?
I'm too new to answer this!
What's the best piece of advice you've been given and by whom?
It's not so much advice I've been given but it's a thought-provoking quote:
Curious that we spend more time congratulating people who have succeeded than encouraging people who have not. – Neil deGrasse Tyson
What advice can you give for people to aspire to be where you are?
Learn about data analytics. The profession is changing, and the analysis required is more in-depth than ever.
Tell us about your family:
I have a pet rock, named Rocky.
What's your favourite Hamilton eatery?
Good Neighbour.
Favourite music or bands?
Film scores and original soundtracks. Composers such as Brian Tyler, Hans Zimmer. Also, the Backstreet Boys.
Favourite movie or TV show?
Inception
Favourite holiday destination?
I haven't been to a holiday destination twice, yet. A dream destination is Japan though.
What do you do for fun?
Computer gaming.
Who would you most like to meet and why?
Bill Gates, to hear about all the philanthropic work he's doing post-Microsoft.
What's one thing people would be surprised about or interested to know about you?
I learn about our solar system, galaxy and the universe in my spare time.