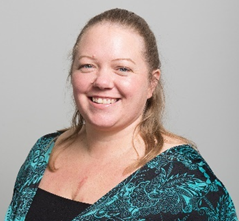 At PKF Hamilton, we love working with clients and getting to know them. So, we thought it's only fair that you get to know us a bit better as well with our staff profiles. Read below to find out more about Kerri Grey, one of senior accountants here at PKF Hamilton. You'll discover some of her favourite things include rock music and rugby, why she loves working for PKF Hamilton, and she'll reveal which rock band's song played as she walked down the aisle on her wedding day. 
Tell us a bit about your background?
I grew up in Tokoroa, when I finished seventh form in 1996 I sent a heap of letters to accountants in Hamilton seeing if anyone was interested in hiring me while I studied part-time towards my degree.  I received a job offer and moved up to Hamilton, after working for two other accounting firms I started at PKF in 2005 and have been here since
Why did you want to get into this type of role?
I always enjoyed working with numbers and enjoyed accounting at school.
What do you love about working for PKF Hamilton?
Definitely the people. I've developed relationships with staff and clients over the past 13 years. It's easy to enjoy work when you work with good people.
What's the best piece of advice you've been given?
Not advice as such but my mum and dad taught my brother and I, good work ethic and to take pride in our work.
What advice can you give for people who aspire to be where you are?
Don't be afraid to do things a different way to the norm to get what you want.
Tell us about your family?
I live in Ngaruawahia with my husband of 13 years – Chris, our 20 month old Emma and two cats Dobby and Smaug.
Favourite place in to visit in Hamilton?
Waikato Stadium, I'm a big rugby fan.
Favourite music or bands?
Rock music. I love Good Charlotte, Linkin Park, Seether, Stone Sour and I'm not afraid to admit it Nickelback as well.
Favourite movie and/or tv show?
None in particular but I enjoy a good horror movie.
Favourite holiday destination?
Any beach.
What do you do for fun?
Spending time with my family, cross stitch and reading.
What's one thing people would be surprised about or interested to know about you?
I walked down the aisle at my wedding to a Metallica song, not the usual choice in wedding songs.