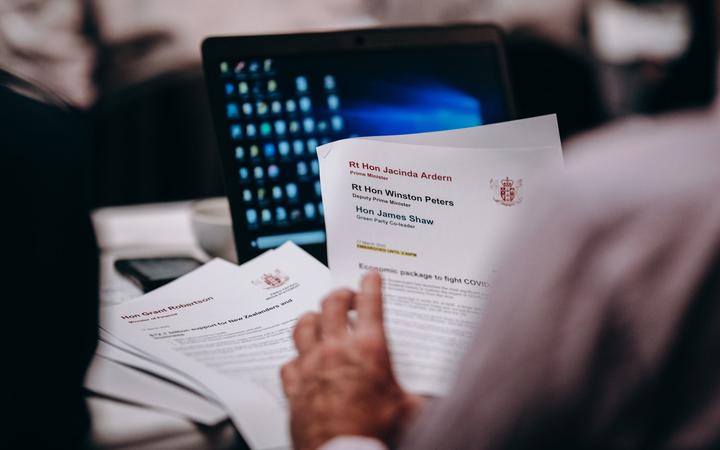 With the Government ramping up responses and actions to mitigate the impact of Covid-19, My Advisor director John Marshall has put together some useful information for businesses dealing with the Covid-19 crisis.
With the situation rapidly changing in NZ, I have taken a pause to reflect especially given the various approaches I am seeing across a large and diverse group of clients, and share with you some of my thoughts.
I have now been through several global crises impacting business from the early 90s recession after the stock market crash in 1987 through to the US subprime mortgage melt down in the US triggering the GFC in 2008. I have a few key messages for you to consider from the lessons I have learned in business through these crises and through working with many clients.
Keep calm and remain positive
I know this sounds basic, but as leaders many people around us including our teams, managers, and even our families have heightened anxiety during this time. The news reels are pumping out enough negative news, and now with advent of social media this stream is constant. While it is important to acknowledge events and updates it is also important to find a positive spin. That is what leadership is about. We can moan about what the Government is doing or not doing or should be doing, however unless you are running the country, you have little influence. Instead your energy and focus should be on what you can influence and decisions you can make.
Plan for the worst and plan to recover
Now is the time to start planning, and that should be in three forms: what you are doing immediately, what you need to plan for in the short term, and what you should plan in the medium term. In 2008 with the GFC looming to NZ, I saw first-hand the clients that quickly moved into planning mode and started making considered and swift decisions. These were the businesses that fared best and recovered quicker with less damage. Your team need to know you have plans and are in control. Clarity around parameters on needing to make hard decisions especially when it relates to your people is critical.
This too shall pass
The media and so-called experts have said this event will be much worse than the last. In my experience it is never as bad as predicted by all the experts. The GFC was going to be 10 times worse than the Great Depression. Covid-19 is different from all the previous crises and the world will take decades to recover. The reality is people are resilient although economies will crash alongside many businesses. That said, it will pass and there will be new opportunities that appear, and most will recover. As business owners and leaders we all need to take the long term view, after making short-term decisions.
Cash is king
In a crisis cash will always be king! Now is the time to really take a hard look at your balance sheet, and reforecasting models. Now is the time to be meeting with your bankers. Now is the time to shore up financial support, credit facilities and the like. Now is the time to hold off hiring, spending on capex and looking for efficiencies in your business. This is the time to get fit, rationalise marginal products even at a loss, streamline service offerings and cut out wasted activities and resources.
Anyone can sail in calm water
Now is the time to demonstrate leadership. Leadership is about positive communication, demonstrating control through good plans and better decisions. It's also the time to show empathy, whether that's about extending leave or sick policies in the interim, or regularly checking in with your teams. Constant communication is vital as this is where most leadership is demonstrated and seen.
I have outlined the following for your consideration in terms of where your attention needs to be in my experience. Communicating with a range of clients over the past two weeks I have seen many that are already into this and have made a start and many that have not. The following is a useful list to work through with your management team.
Immediate planning and action
First and foremost is important for business leaders to consider and define new interim policies and processes and to clearly define these to your teams, supply chain and also customers. Things are changing rapidly and we need to be prepared.
Revising and defining interim business policies
First and foremost is important for business leaders to consider and define new interim policies and processes and to clearly define these to your teams, supply chain and also customers.
Working from home policies
Are some of your workforce able to work from home in the interim? What policies are in place or need to be defined and communicated to those able to work from home? Under health and safety regulations what considerations are needed to ensure the home as a workplace is compliant?
Sick policy
How do you determine if someone is sick? What happens if team members need to stay at home to look after family that are ill? Is there an interim measure to let team members accrue negative sick leave balances? Do you need to consider long term sick leave?
Self-isolation and leave policy
What happens if one of your team is off ill? Do you require them to be tested in order to return to work? How do you check clearances?
Are you looking to encourage team members to start taking annual leave? Are you willing to let team members accrue negative leave balances? Will you pay people that have gone into self-isolation?
Domestic travel policy
With the rapidly changing requirements from government, what do you need to guide your team members around travelling for work but also personal travel? Are you looking to track people movements especially those travelling across the country?
Employee support
What support will you need for employee assistance? This is a good topic for communication to help your team manage anxiety and stress.
Your teams
Isolating teams
It is likely that if one person in a team is infected or develops symptoms and go into self-isolation that the close contact rule will apply and those working close will also need to do the same. Are you able to separate working teams, keeping functional teams apart, or even splitting teams cross functionally? For example, if your administration team all work together in the same space and one goes down it is likely the rest of the admin team will also need to go into self-isolation. This is where having team members rotating and working from home may well work if they are able.
Working from home
For those able to work from home what planning and resources are required? NZ has a shortage of laptops available with a large run on these products by corporates a week ago. Are they able to log into your networks from personal devices? Will these need to be checked for security reasons?
Client contact
What do you need to consider in terms of client contact? We have clients that have set up hand sanitiser stations, and signage around safety, greetings and distancing. What is it that your clients now need from you?
Supplier contact
What critical supplies does your business require over the next month? Have you contacted your suppliers on updates of inventory levels?
Do you need sales reps visiting sites over the next month?
Contingency planning
IT infrastructure
Can your IT infrastructure withstand people working from home? Have you tested it? Is it secure?
Sanitisation of the workplace
What processes are you putting in place to regularly sanitise the workplace? What processes do you have in place for sanitisation once notified a staff member is self-isolating or has had symptoms?
Positive test process
What processes do you need in place if a staff member tests positive for Covid-19?
Resourcing
What resource changes do you need to plan for? Four day weeks / Encouraging annual leave / Redundancies / Outsourcing / Contractors
What about key staff in roles? Contingency for short staffing in areas?
Communication
Team communication
What do you need to communicate to your teams immediately? How often are you going to update them? How are they feeling right now with all the media and the changes they are seeing in your business and with your clients? What are your key messages?
Customer and client communication
What should you be communicating to your clients? What can you do to support them? What are the key messages to want to send to your clients?
Industry communication             
What issues or changes do you need to communicate to your supply chain and industry sector?
Short term planning
Resourcing Planning
Supply Chain management
Financial planning
Debtor and Creditor policies
Banking and Shareholder Support requirements
Business rationalisation
Team communication
Culture planning given the tough times
It is critical to start working through the above planning items. Who will be involved and how will you undertake it and when?
Medium term planning
Funding balance sheets
Business rationalisation
Recovery planning on the upturn
We spent three years from 2009 working with businesses to support leaders through and navigate economic headwinds. These areas ranged from planning to restructures through to re-financing. One thing I can guarantee as a business owner or leader, 2020 will be your busiest year in the past 10. It is important you keep yourself fit and healthy and manage your own stress. Often it is too easy to quickly get wrapped up in the chaos and forget about yourself. Commit now to a daily routine to prioritise this activity, whether it's a daily walk or run, or some form of time to manage your health and stress levels. Your business needs you fit and healthy looking like you're in control and making good decisions.
For more information see www.myadvisor.co.nz